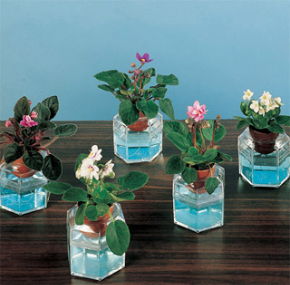 Click to enlarge image(s)
This miniature African Violet is so perfectly formed and brightly-colored your guests may wonder if it's real!

Exquisitely-formed 3/4-inch blooms of pink, blue, and white dazzle atop a neat rosette of foliage on tiny plants just 3 inches wide!
Blooming just 5 to 6 months from sowing, African Violet is a favorite for its profuse bloom, lovely foliage, and ease of culture.
Full-sized African Violets are among the most popular houseplants of all time, so you can imagine how beloved this classic miniature must be!

Sow the tiny seeds ontop of moist growing medium (such as potting soil), keep moist, and provide plenty of light. A good choice for a bathroom with a bright window (it loves the humidity and needs the light!). Pkt is 50 seeds.
Currently unavailable - Target date Mar. 2019

Cart
Note:
All prices in US Dollars

Search

Featured Products