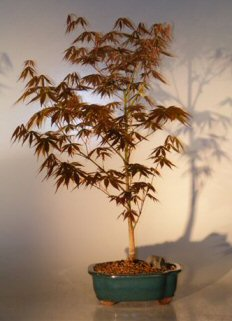 Click to enlarge image(s)
Purplish-red Japanese Maple Leaves becoming green in late summer, deeply lobed. Red fall color.

Flowering outdoor bonsai tree with small reddish-purple flowers in May-June. Deciduous.
Keep outdoors. Available 12 months a year. The Beautiful Outdoor Japanese Red Maple Bonsai Plant Will Not Have foliage during winter months.
7 years old
14" tall.

Cart
Note:
All prices in US Dollars

Search

Featured Products