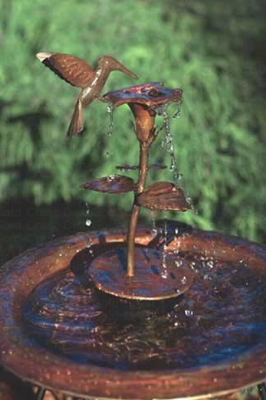 Click to enlarge image(s)
Copper Dripper/Fountain Hummingbird and Copperplated Steel Birdbath

Fountain: Electric Pump only.
Depth of water in bath for the fountain to operate at its best is approximately 3 inches.
The minimum height of the water level for the pump to continue to work is approximately 2 inches.

The dimension height from the metal base plate to the bottom of the circulating pump is approximately 3 inches.

There is not a safety shut off if the water should go down too far to function.

Dimensions: 13.50L x 7.00W x 7.00H

Birdbath: A perfect companion piece to our Copper Dripper/Fountain.

A stylish addition for a patio or garden, our Copperplated Iron Birdbath features a handsome scrolled flowering vine embossed rim and sturdy, yet graceful, iron legs fashioned to hold a potted plant.

The birdbath stand is 22 inches in height, the basin is 22 inches in diameter and the basin is 2 inches deep.

The kit contains the stand, the basin and the hardware.
It is designed to hold a 7 inch potted plant of approximately 5 pounds max in weight.

Cart
Note:
All prices in US Dollars
Search