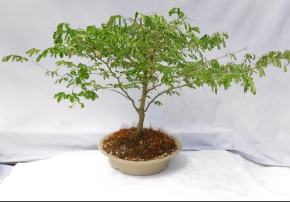 Click to enlarge image(s)
Brazilian Raintree - Chloroleucon tortum

Elegance and grace!!!

Beautiful and decorative indoor or outdoor mid-size bonsai tree. The leaves of this unique Brazilian Tropical Raintree fall in the winter and bloom again in the Spring and Summer. For this reason our Brazilian Raintrees are categorized as a flowering bonsai plant. Like all our real house plants for sale, our Brazilian Raintrees are real and shipped safely to your door. Grown in a nursery and cared for by professionals with a passion for bonsai ensuring you will receive a healthy, and great looking Brazilian Raintree bonsai. We also offer our top rated unique and decorative flowering Tropical Raintree Bonsais at the best possible discount online sales price. They make great gifts for the plant lover in your life.

• This is an indoor tolerant, water loving (in the warm weather) tropical.
• Like some shade when outside in the warm weather.
• Can develop flattened 'muscular' trunk that is very unique!
• Dim: 18.00H x 27.00W
• Raintrees drop leaves in winter
• Recommended Location: Outside in the full sun but will thrive in open sunny area indoors.


Cart
Note:
All prices in US Dollars

Search


Featured Products