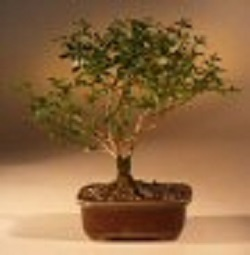 Click to enlarge image(s)
Flowering Winter Jasmine Bonsai Tree (jasminum nudiflorum)

Winter Jasmine is native to western China and has been cultivated in the West since the mid 1800's.
It has bright, glossy, green pinnate leaves divided into 3 oblong leaflets.
This winter hardy, vine-like shrub grows into a tree form.
This flowering beauty bears 1" bright yellow blooms at the base of its stems and slowly blooms up the stems.
By late winter it flowers at the tips of the stems.
Branches will root and produce new plants where trailing branches touch moist soil.
6 years old, 15" tall

Aged bonsai tree with yellow blooms

Easy to root new plants

Deciduous.

Keep outdoors or in colder area

Excellent for beginners

Suitable humidity/drip tray is recommended.

Cart
Note:
All prices in US Dollars

Search