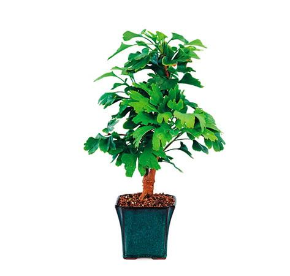 Click to enlarge image(s)
The Ginkgo Maidenhair Bonsai Tree has been used for centuries in the world of medicine.

This amazing 3 year old 9" - 10" bonsai plant is still believed to enhance one's memory. The unique color and gently-ribbed leaves of the unique indoor bonsai tree give the plant a look and feel that only the Ginkgo Bonsai can provide. It is also easy to care for, making it great for beginners. This unique Ginko Maidenhair Bonsai Tree is on sale here at the best possible cheap discount online sales price.
Ginko Maidenhair Bonsai Tree

Recommended Location: Outside or inside, near a window. It prefers a sunny position for mature trees.

3 years old

9" - 10" tall

Possible Herbal Medicinal Benefits

The Ginkgo is deciduous and in autumn, before the leaves fall, they turn bright yellow.

Ginkgo bonsai hardly ever bear fruit.

Cart
Note:
All prices in US Dollars

Search

Featured Products