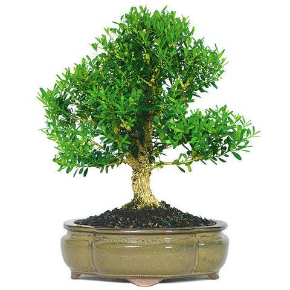 Click to enlarge image(s)
The Harland Boxwood Bonsai Tree is a popular trees used in the art of bonsai throughout the world.
The foliage is emerald in color and glossy when the light strikes it.

• These trees seem to be the favorites of old royalty, as they have been found inside the tombs of Roman nobility.

Features:
• Hardy indoor or outdoor Bonsai tree
• Extremely resistant to common diseases
• 8 years old
• 12" – 16" tall
• Excellent tree for beginners
• Ivy colored bark with rough texture presents appearance of age
• Dense branches; native to both Asia and Europe

Note: While Plants are unique and not one plant is the exact same as the other. The plant we send you will be a live, healthy well cared for plant, whose age, size, color and type will match the plant show in the image from the product page you ordered from. We and our nurseries pride ourselves in providing each of our customers with the best plant possible that will match as closely as possible the image shown. While we cannot guarantee the plant you receive will look exactly like the plant in the image, it will be very close and if you are unhappy with your plant you can send it back.

Cart
Note:
All prices in US Dollars

Search

Featured Products