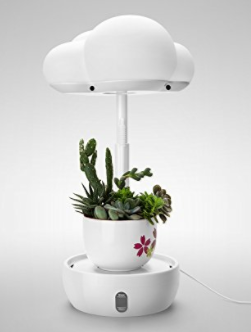 Click to enlarge image(s)
Out of Stock
Full Spectrum Lighting: Equipped with professional full spectrum LED plant grow light, which integrates optimal wavelength and intensity.
INMAKER creates a good indoor environment for your beloved plants. This light provides the features to ensure your plant thrives.



Features:


Auto Watering Mode: Auto watering could be adjusted according to the needs of your plants, always supply proper water to the plant.

On/Off Automatically: Lighting for 16 hours, then sleeps for 8 hours automatically. INMAKER makes your plants enjoy regular schedule, and also helps avoid energy waste effectively.

Interaction Mode: Infrared sensor detects any obstructions in the front, when walk by, INMAEKR would interact with you by blue lightening and thundering sound. When Interaction Mode is off, it becomes quiet, with yellowish light, creating a serene and comforting space.

Adjustable Height: The height of the lamp could be adjusted to the growth of the plant , always giving the best space and lighting.

A 3-year Extended protection plan included: Coverage for product breakdowns and malfunctions after manufacturer's warranty expires.

Cart
Note:
All prices in US Dollars

Search