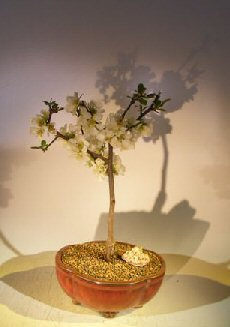 Click to enlarge image(s)
Super Red -(chaenomeles japonica 'moned') Bonsai Tree

Huge bright red blooms precede foliage, among the first to appear each year and long-lasting! Greenish-Yellow fruit attracts birds.
Rare combination of red, white, or pink flowers (or a combination of these colors)
This Bonsai tree presents as a rousing floral bloom display in late winter and throughout early spring
Prized in Japan for bonsai, jam making
A Bonsai enjoyed for its large colorful blooms
During the spring, the plump buds will begin to open to unveil vivid red, pink and white flowers, all on the same tree.
These beautiful flowers will whisk you away with the spring.
The blossoms are preceded by green foliage, which will cover the rugged, strongly angular limbs.
Deciduous tree, best kept outdoors in its natural environment
In the autumn or winter, tree shipped with no foliage
Blooms in the spring, March to April
8 years old - 10" to 12"
*Please note: Sadly, state agricultural regulations prohibit us from shipping this tree to California and Arizona.
Cart
Note:
All prices in US Dollars

Search


Featured Products