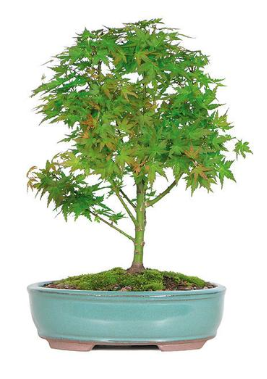 Click to enlarge image(s)
Japanese Green Maple Bonsai Tree - Large
Hardy and easy to grow, this delicate Maple will look great on a patio, deck or garden.
Provide sun in order to show best colors both in early spring and late into the season. Deciduous. Keep outdoors.
This versatile tree is great for home, office, dorm or anywhere

4 years old 8-10" tall

May be shipped with no foliage during autumn and winter.

Known for vivid green leaves that first emerge in the spring. as rosy pink.

As winter approaches, the leaves begin to display an array of colors eventually a rich golden hue.

The palmate leaves are gracefully serrated which sets this tree apart from others.

Beautiful seasonal growth that displays this tree.

Suitable humidity/drip tray is recommended.

Recommended outdoor bonsai tree.

Cart
Note:
All prices in US Dollars

Search