Best Viewing on Smart Phones
Hold Horizontally

Featured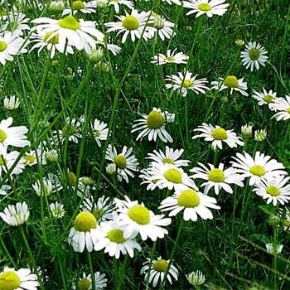 Click to enlarge image(s)
'Chamaemelum nobile, Camomilla nobilis' - a perennial herb with white and yellow flowers, growing to 0.4 m. The flowerheads are used medicinally.

The flowers can be used to make a soothing tea or inhaled as steam for the reduction of nasal irritation as well as hay fever symptoms.
Details:
Roman chamomile is used for various digestive disorders including indigestion, nausea, vomiting, loss of appetite, and intestinal gas (flatulence) due to mental stress. Women use it for morning sickness and painful menstrual periods. It is also used for pain and swelling of the lining of the nose and mouth, sinus pain (sinusitis), and joint (rheumatic) disorders.

Roman chamomile is applied directly to the skin for pain and swelling (inflammation) and as a germ-killer in ointments, creams, and gels used to treat cracked nipples, sore gums, and irritation of the skin. It is also used topically for wounds, burns, eczema, frostbite, diaper rash, bedsores (decubitus ulcers), and hemorrhoids.

Roman chamomile is sometimes mixed with other herbs and taken by mouth for liver and gallbladder disease, gallstones, fatty liver, chronic heartburn, loss of appetite, digestive disturbances, a heart condition called Roemheld's syndrome, indigestion in infants, and certain types of constipation. It is used as a "blood purifier" and general female tonic; and to prevent menstrual cramps and irregular periods.


Cart
Note:
All prices in US Dollars

Search