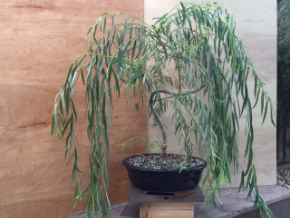 Click to enlarge image(s)
The Japanese Weeping Willow exhibits everything from movement and grace, to fluidity and harmony.
These same traits are just some of the few that make weeping willows a favorite in landscapes across the world - traits that translate to a remarkably pleasing bonsai.

The Japanese Weeping Willow tree has a slender, fine form introduces a light, airy presence wherever it is placed. The leaves will shed in the fall, which highlights the bonsai's elegant silhouette.

Only 16" to 20" Likes sun. Deciduous. Keep outdoors.
6 years old, 6" - 8" tall

Suitable 13" x 9" x 1" humidity tray is recommended. This come with the DECORATIVE ROCK.
Since the bonsai will be resting on top of the rocks, it will rest above the standing water instead of in the standing water, helping to prevent a root rot!

Cart
Note:
All prices in US Dollars

Search