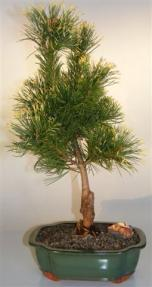 Click to enlarge image(s)
Japanese White Pine Bonsai Tree - Medium (pinus parviflora 'Goldilocks')

Our Japanese White Pine is a broad evergreen with greenish, blue tinted needles that shows creamy variegation on the tips, giving this species its name 'Goldilocks'. The overlay of its golden highlight contrast the silver undertones on the curved, green needles making this a showy Bonsai piece.

Its informal upright habit produces multiple layers and creates a unique sweeping form. The Japanese White Pine is the most commonly used Pine for Bonsai in Japan. Outdoor evergreen. Keep outdoors.

13 years old, 18" tall


Suitable 6" x 8" humidity tray is recommended.

Cart
Note:
All prices in US Dollars

Search

Featured Products