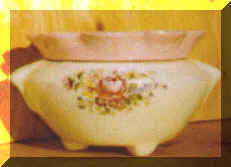 Click to enlarge image(s)
Beautiful self-watering African violet pots.

These pots allow the violet plants to absorb moisture as needed.

Each pot is carefully made once ordered.
The top section is porous and absorbs moisture from the bottom section.

We have three different sizes of pots:
Miniature: 3 inches across and 1 1/2 inches deep
Standard: 7 inches across, 4 inches tall. The insert is 6 inches across and 2 3/4 inches deep.
Large: 9 inches across, 5 inches tall. The insert is 7 inches across and 3 1/2 inches deep.

Cart
Note:
All prices in US Dollars

Search

Featured Products