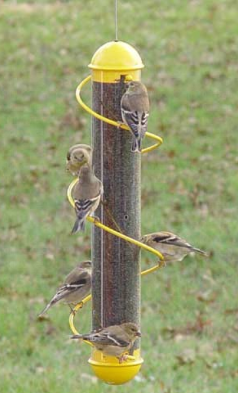 Click to enlarge image(s)
Yellow Thistle Spiral Feeder. Consumers and birds LOVE!!!

■ Thistle Spiral Bird Feeder

■ Perfect for all types of birds and holds 1.5 quarts of seed.

■ In Use Dim: 18.00D x 5.25W x 5.25H

■ Lifetime warranty on workmanship and normal wear and tear. Aluminum and stainless steel parts.

■ Squirrel-proof- patented locking lid- just twist and lock those pesky varmints out.

■ No screws to mess with. Easy to hang- looped wire hanging cable included (150 lb test) and attached.

■

Holds cap so you don't have to wonder where you put it. 2.5 Quart capacity (1.5 pounds). Tray sold separately.



■ Easy to clean- twist and clean (patent pending) easy-clean bottom comes completely off for easy cleaning. This allows you to fill the top one time and the bottom the next.