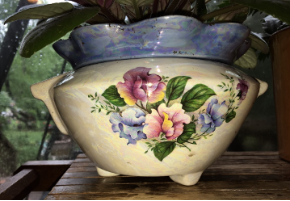 Click to enlarge image(s)
Beautiful self-watering African violet pots.

These pots allow the violet plants to absorb moisture as needed.

Each pot is carefully made once ordered.
The top section is porous and absorbs moisture from the bottom section. Soaking the inner pot is warm water will unclog pours if the new pot does not seem to be absorbing water. Initially water from the top as well as from the water to ensure your plant is getting moisture. Do not over water.

We have three different sizes of pots:
Miniature: 3 7/8 inches across and 2 1/2 inches deep. The insert is 2 1/2 across and 2 inches tall
Standard:
6 1/2
inches across, 3 1/2 inches tall. The insert is 5 1/4 inches across and 2 1/2 inches deep.
Large: 8 1/2 inches across, 5 inches tall. The insert is 6 1/2 inches across and 3 1/2 inches deep
Note: These measurements have been updated. Over the years the pot molds have broken and been replaced with others. Some from a different manufacturer. As a result the pots are slightly smaller in size. The Large pot is only 8.5" across instead of 9" and the Standard only 6.5" instead of 7". We apologize for the inconvenience but we do not make the molds and there are limited vendors.
There may be up to a two week delay in delivery due to manufacture needs.

Cart
Note:
All prices in US Dollars

Search