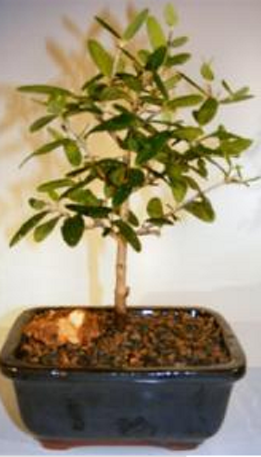 Click to enlarge image(s)
Arbequina Olive Bonsai Tree
Arbequina is a cultivar of olives which is mostly grown in Spain.

• 8" - 11" tall
• 7 years old
• One of the dominant cultivars in the world because of this variety bears highly aromatic dark brown fruit.
• This Olive tree is self pollinating.
• This unique species will begin to ripen during November but does not always ripen simultaneously.
• The olives are used as an eating olive for its mild and buttery flavor.
• The olives are also used for olive oil for its high oil concentration.
• Beautiful grey-green foliage, the fruit is highly aromatic and dark brown.
• Excellent as an indoor bonsai.
• Suitable humidity/drip tray is recommended.


Cart
Note:
All prices in US Dollars

Search