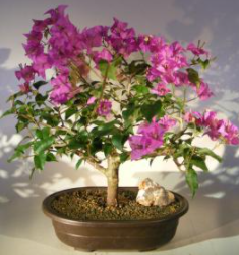 Click to enlarge image(s)
Beautiful Flowering Bougainvillea Bonsai Tree (Pink Pixie)

This will be delayed during COLD weather or must ship OVERNIGHT!



The navigator Louis Antoine de Bougainville (1729-1811) gave his name to this genus. This unique and decorative mini bonsai plant is originally from tropical and subtropical America. Like all of the other small indoor bonsai trees and houseplants we have for sale the flower Bougainvillea is a real bonsai tree. The plants we have for sale are raided in our nursery, cared for by professionals, and shipped safely to you. Being an online based plants and flowers store we do not have many of the expensive operating costs of traditional stores selling unique and decorative real indoor house plants. These savings allow us to offer beautiful, healthy, mini bonsai trees like this tiny indoor tropical bonsai at the best possible cheap discount online sales price. If you have any questions give us a call or send us an email and one of our bonsai experts will be happy to help.

• This beautiful indoor flowering bonsai plant is popularly known as the "Paper Flower".
• The very delicate deep pink flowers look like paper, hence the name "Paper Flower".
• The flowers are unique bracts of leaves at the tip of the bonsai's stems that turn brilliant pink in color.
• This small indoor bonsai tree likes sun and warm temperatures.
• Recommended flowering indoor bonsai tree.
• Suitable humidity/drip tray is recommended.

This unique and beautiful real indoor bonsai tree is on sale here at the best possible cheap discount online sales price.
Cart
Note:
All prices in US Dollars

Search


Featured Products