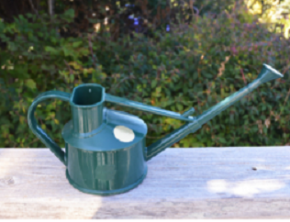 Click to enlarge image(s)
English Garden Haws 1/2 Liter (about 1 pint) Watering Can

• Such a cute, classic long reach watering can for the gardener who wants the very best but also wants to add a bit of bright color.
• This is made of hard injection molded plastic.
• The oval brass-faced rose delivers a fine spray suitable for watering seedlings and delicate plants.
• The brass-faced rose is easy to remove.
• The tall neck prevents water spilling out when the can is tipped forward for watering
• This offers durability and with 2 handles, the can is perfectly balanced for effortless watering as the water level in the can changes.
• Dimensions: 4.5"D x 14"W x 5"H
• Color selection depend on stock availability. We will try and accommodate your selection.

Cart
Note:
All prices in US Dollars

Search


Featured Products