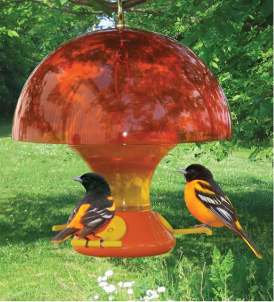 Click to enlarge image(s)
Orioles Magnet Feeder

This colorful unit consists of a 12" baffle and a separate feeder that combine to make darling unit for your yard.
Attracts Orioles and keeps them cool at the same time.
All orange color attracts nearby Orioles
12 inch diameter baffle blocks out sunlight which keeps the feeder underneath cooler.
Shade also keeps nectar fresher so it lasts longer.
3 Feeding stations with Bee/Wasp guards.
Pole mount or hang.
Generous 48-52 oz capacity.
Flat top for easy filling.
Large mouth, snap apart base for easy cleaning.
Dimensions:
Baffle: 12(D) x 6(W) x 6(H) inches
54 oz. Feeder: 5.75(D) x 5.75(W) x 8.5(H) inches


30 oz. Feeder: 5.25(D) x 5.25(W) x 7.5(H) inch