Featured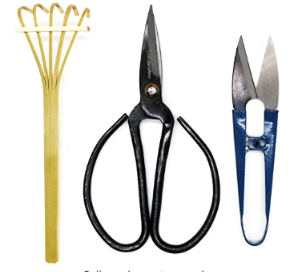 Click to enlarge image(s)
Set of 3x - Bamboo Rake, Pruning Scissors, Bonsai Scissors for Bud & Leaf Trimmer
Super handy, you'll want to keep these in several places so that they're always at hand for a quick snip.

Bamboo Rake - Length 5", Natural bamboo handmade. Bamboo Rake features adjustable gaps.

Bonsai pruning scissors - length 5", cut with ease, making it perfect for pruning, cutting twigs, or small branches.

Bud & Leaf Trimmer - Blade Material: High Quality Carbon Steel, Bonsai Scissors Length 4".

This Bonsai Pruning Kit is perfect for beginners and master bonsai enthusiasts alike.

Precision ground and very sharp.

To preserve the fine edges, do not use these tools to cut wire.

Wash after every use, pat dry, and lightly oil.

Cart
Note:
All prices in US Dollars

Search


Featured Products