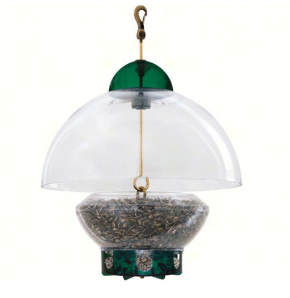 Click to enlarge image(s)
Big Top Bird Feeder Green
• Unique feeder that works well in the backyard or on a porch to let the little birds have access.
• Eight adjustable feeder ports on the seed bowl regulate the flow of seed and allow clinging birds to feed.
• Safety-lock hook- secures feeder.
• Brass rod- dependable durability Rain guard with O ring- ensures dry seed.
• Collet Technology- adjusts dome position on brass rod.
• 15 diameter adjustable dome- protects seed from weather and thwarts large birds and squirrels.
• Holds 3 lbs seeds.
• 10.0 Inches (L), 4.0 Inches (H) x 10.0 Inches (W)
• Weather resistant.

Cart
Note:
All prices in US Dollars

Search


Featured Products