Featured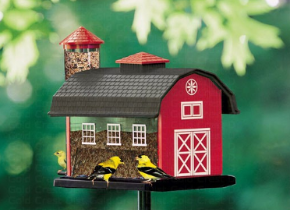 Click to enlarge image(s)
Red Barn Combo Feeder
Translucent barn sides hold mixed seed while silo portion comes with interchangeable perches allowing use of thistle or other types of seed.
Has lift-off caps for easy filling.
You can hang from cord (included) or pole mount on 1 in pole (not included - Listed as an optional buy).

Dim: 12.75L x 9.00W x 11.50H

Bird feeder pole is 72 inches tall from the ground to the platform when installed.
Feeder pole and mounting platform are designed to work with both covered and open platform bird feeders.
Kit includes Ground Socket, Mounting Bracket and Pole.
Holds up to a 30 lb. feeder.
Bird pole kit contains:
Two Pole Sections (1 inch diameter);
Mounting Platform (2 inch by 6.5 inch);
Ground Socket (1.25 inch diameter by 14 inches long);
Mounting Screws (number 8 by .75 inches long).

Cart
Note:
All prices in US Dollars

Search