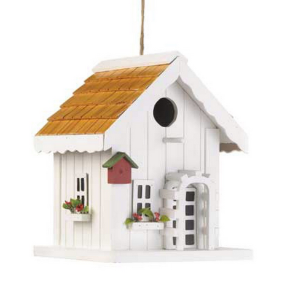 Click to enlarge image(s)
Out of Stock
Bright and cheery, just like the song of the lucky bird that gets to call this sweet house home!
A perfect complement to your yard, this charming birdhouse.
Features tiny window boxes bursting with tiny faux flowers.
Includes a trellis around the front door, and even a tiny little birdhouse of its own on the corner.
Hang this from a tree in your yard and watch as new neighbors flock to move in!
Features:
• Weight 2.0 lb
• Wood
• 7 1/8" x 7 1/8" x 9" high