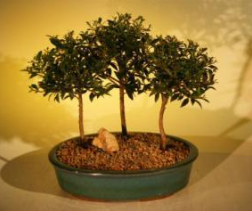 Click to enlarge image(s)
Flowering Brush Cherry Forest Group of 3 also known as (eugenia myrtifolia)

• The Flowering Brush Cherry is also called Austrailan Brush Cherry.
• The small handsome evergreen leaves which is ideal for bonsai.
• Flowers with pink and white puffy blooms during spring/summer.
• New leaves appear reddish in color, turning green as they mature.
• Great for indoors.
• 5 years old grouping.
• 6" - 7" tall.
• Suitable humidity/drip tray is recommended.

This unique and beautiful real indoor bonsai tree is on sale here at the best possible cheap discount online sales price.


Cart
Note:
All prices in US Dollars

Search


Featured Products