807190-03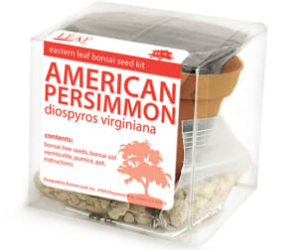 Click to enlarge image(s)
Grow your own American Persimmon bonsai fruit tree kit

The American Persimmon tree is a unique outdoor flowering plant native to North America that you can bonsai if you wish. After around 7 years these beautiful plants begin flowering and bare fruit. These American Persimmon fruiting bonsai tree growing kits come with 5 - 19 seeds and everything you need to cultivate and care for your very own outdoor bonsai tree. You will find this top rated and affordable American Persimmon Seed Kit on sale here at our online outdoor plant and flower store at the best possible cheap discount price.
The American Persimmon (Diospyros Virginiana) is a deciduous tree is found in North America.

Everything you will need is included in this bonsai seed kit to cultivate your own bonsai.

Bonsai Seed kit includes approximately 5-10 seeds.

This is a giftable bonsai seed kit.