Featured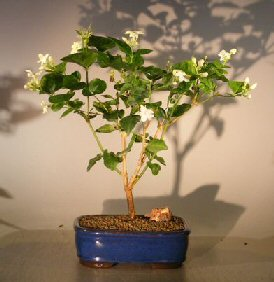 Click to enlarge image(s)
The flowering Arabian Jasmine Bonsai Tree (jasminum sambac) -
5 years old, 12" - 14"
The
5 years old, 12" - 14"
flowering Arabian Jasmine Indoor Bonsai Tree is a bushy vine plant that we train into tree form. This beautiful small flowering bonsai blooms with intensely fragrant white flowers, fading to pink as they age. This unique and beautiful indoor Jasmine Bonsai plant is grown throughout the tropics as a decorative ornamental tree and for its strong and elegant floral scented flowers. This unique and decorative flowering indoor bonsai tree is on sale here at our online plant nursery at the best possible cheap discount price. Does very well as a flowering indoor bonsai tree.
Flowering Indoor Arabian Jasmine Bonsai Tree

Blooms with Intensely Fragrant White Flowers that Fade to Pink

5 years old, 12" - 14"

Suitable 6" x 8" humidity tray is recommended.

Cart
Note:
All prices in US Dollars

Search


Featured Products