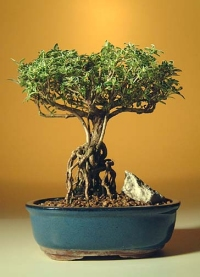 Click to enlarge image(s)
Mount Fuji Serissa Mini Bonsai Tree with Beautiful White, Star-Shaped, Miniature Flowers.

This small and unique sub-tropical variegated evergreen bonsai tree, is imported from Japan and blooms profusely with beautiful and delicate white tiny miniature flowers. This rare and cool bonsai tree is on sale here at the best possible cheap discount online sales price.

Trained raised root system gives the appearance of great age. Easy indoor maintenance. Excellent for beginners.
7 years old.
8" tall.
Suitable 8" x 10" humidity tray is recommended.

Cart
Note:
All prices in US Dollars

Search

Featured Products