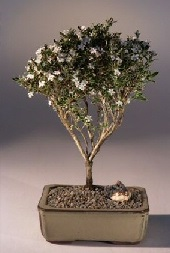 Click to enlarge image(s)
Mount Fuji Serissa Mini Bonsai Tree with Beautiful White, Star-Shaped, Miniature Flowers.

• This small and unique sub-tropical variegated evergreen bonsai tree is imported from Japan.
• It can profusely bloom beautiful white, star-shaped, miniature flowers.
• Trained raised root system gives the appearance of great age.
• Easy indoor maintenance.
• Excellent for beginners.
• 10 years old
• 12" - 13" tall.
• Suitable 8" x 10" humidity tray is recommended.

This rare and cool bonsai tree is on sale here at the best possible cheap discount online sales price.
Cart
Note:
All prices in US Dollars

Search


Featured Products