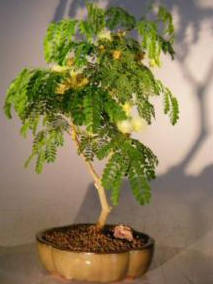 Click to enlarge image(s)
This beautiful bonsai tree with its exotic appearance and name. It is like having a piece of the rain forest in your own backyard.

Interestingly enough, you can visually see this tree respond to the ambient conditions around the tree. It is the closest you can get to owning a weather station without actually owning one! The leaves will darken when the temperature is high and begin to fold and close when it rains.

These make perfect gifts for weather conscious friends!

• This hardwood tree is native to Brazil and its rainforests.
• The leaves fold up at night or in subdued light and wake up when we do.
• Flowers appear as fragrant fuzzy puffballs.
• Easy indoor care.
• Suitable humidity tray is recommended.
• Experience: Excellent for beginners
• Recommended Location: Outside in the full sun but will thrive in open sunny area indoors.

Cart
Note:
All prices in US Dollars

Search