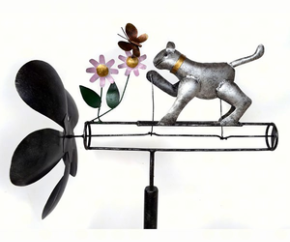 Click to enlarge image(s)
Wind Powered Kinetic Garden Sculpture Includes 3 part Stake
Out for a playful afternoon in the garden, the kitty featured in our Cat And Butterflies Metal Whirligig is certainly one mischievous chap!

• When the wind blows, turning the grey wind wheel
• Our detailed grey cat will bat at the colorful butterflies that have landed on the sunflower before him.
• As the butterflies' wings flap, his paw and tail will move up and down.
• Handcrafted from reclaimed sheet metal and hand painted by artisans in Indonesia.
• This feline-friendly wind sculpture is a perfect addition to any cat lover's garden or outdoor retreat.
• Powder coated for durability, this iron whirligig can remain outdoors.
• Our kitty friend can amuse himself with butterflies all season long!


Cart
Note:
All prices in US Dollars

Search