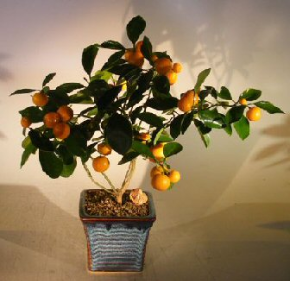 Click to enlarge image(s)
Our decorative citrus tree has shiny evergreen leaves.

Marvelously fragrant white flowers.

Miniature fruit (which grows only to the size of a golf ball).

Flowers appear over the course of a year, often at the same time.

Perfect in stir-fry, beverages or as a snack. Very easy indoor care.

8 years old

15" - 20" tall

Shipped in a special 5" square, 4" deep 2 tone colored ceramic pot, as shown, to accommodate the deeper root structure of a citrus tree.
Regretfully, we are unable to ship this tree to CA, AZ, FL, HI, LA, PR & TX at this time.