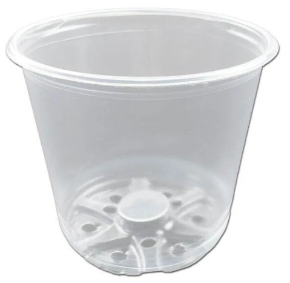 Click to enlarge image(s)
Crystal Clear Plastic Indoor Orchid Planting Pot with Water Drainage Holes

Crystal Clear Orchid Flower pots give a transparent view of emerging roots while also encouraging photosynthesis at the roots. The multiple separate holes in the base of this clear plastic Orchid pot allows access water to drain and channels water away from the indoor house plant's roots. You will find this top-rated and affordable plastic Orchid flower pot with holes on sale here at our planters and accessories store at the best possible cheap discount online sales price.

Sides of all of our Crystal Clear orchid pots are almost as clear as glass.
With multiple separate holes built in the base for drainage, water channels away from the root zone.
It has a raised center with separate drainage levels and side ports to move water out of the pot and away from the root zone.
Keeping roots healthy is critical and good drainage with the ability for air to enter is a must.

Cart
Note:
All prices in US Dollars

Search


Featured Products