Featured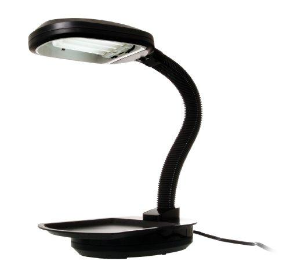 Click to enlarge image(s)
The Hydrofarm Desktop Plant Light comes with an 27-Watt CFL Bulb.
This light provides the radiance to ensure your plant thrives.



Features:
Natural Spectrum daylight

Optimum light for healthy plants

Bright true colors and high contrast

This sleek desk or tabletop grow light offers illumination and versatility for indoor growing.

The lamp has a flexible neck and adjustable height to provide clean and balanced light.

Works great for small and medium size Bonsai Trees and plants.

This lamp provides energy efficient, flicker-free performance that will be good for your tree for years to come.

The daylight balanced fluorescent bulb continuously outputs a continuous spectrum of light that closely mimics the visible spectral output of the sun, with very little heat.

Sleek, clean black design does not detract from the natural beauty of your tree.
Dimensions:
12.60 x 12.99 x 8.27 inches

Height adjusts between 12" and 26"

6' power cord

Base Size is 12" x 8"

Lamp Head Size: 9.5"L x 5.75"W x 1.75"H

Lamp uses just 27 watts.

Cart
Note:
All prices in US Dollars

Search


Featured Products