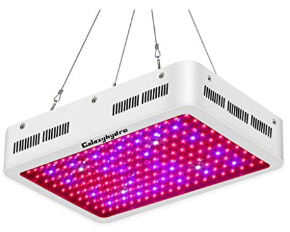 Click to enlarge image(s)
Roleadro Galaxyhydro Dimmable LED Grow Light
Plants Grow Lights with UV and IR for Veg and Flower
Unique Dimmer Design: Galaxyhydro dimmable plant grow light is exclusive on amazon,and it is high-quality and affordable.There is a dimmer on the backside of the grow light,and you can adjust brightness from 0% to 100%.Adjust brightness by dimmer knob to apply for different stages of plant growth instead of adjusting the hanging height of plant light.It will be a perfect solution for all your plants growth stages.

Full Spectrum:include430-440nm,450-460nm,610-615nm,620-630nm, 650-660nm, white, IR(730nm) , UV 380-400nm, 470nm.Our grow lights contain the most useful light without any useless light for plants growth.Blue and red light have the biggest contribution to plants, which can increase the harvest.UV can kill bacteria and reduce the plant disease,and IR promotes cell division.With the help of our light,your plants will absorb all necessary light source. You will find them growing fast and healthy.

Efficient Cooling System:3 quite cooling fans,better heat dissipation than other 2 cooling fan grow lights,light won't generate any ultra heat even works 16hrs a day,keep light has longer service life.

Daisy-Chain Function: Daisy chain compatible to make less cords,which can connect with another led grow lights to extent the coverage.Two or more lights can be connected and used together by power cords. Energy & money & time saving. It will be the best solution for your grow lights indoor.

Warranty and Customer Service: 2 year warranty plus 30 days money back guarantee. We are specialized grow light manufacturer produce grow lamps with excellent quality. If you have any questions,please feel free to contact us, we will offer you professional guidance to help your plants grow better.