Featured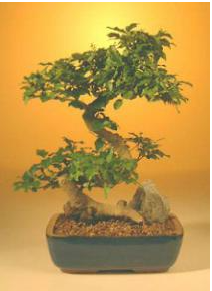 Click to enlarge image(s)
The pleasant smelling flowers of this Ligustrum (ligustrum lucidum) are lovely.

This beautiful tree is native to China and Eastern Asia but grown ornamentally in the US.
The berries are employed as a "yin" tonic in traditional Chinese medicine.
The tonic is used for a wide range of conditions, including premature aging, ringing in the ears and chronic toxicity.
White fragrant flowers are attractive during late spring and early summer.
This tree does well indoors.
This unique and beautiful real indoor bonsai tree is on sale here at the best possible cheap discount online sales price. <

Cart
Note:
All prices in US Dollars

Search