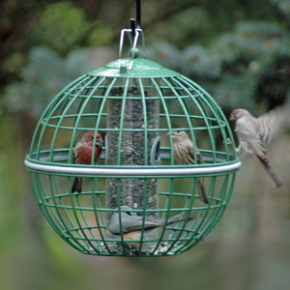 Click to enlarge image(s)
Globe Seed Feeder - Squirrel Proof

The original Nuttery Peanut Feeder has been in constant use for over 15 years in our Pennsylvania garden - winter and summer.
Generations of Carolina wrens, tufted titmice, chickadees, nuthatches and downy woodpeckers have feasted inside its protecting bars.
Red bellied woodpeckers poke their long beaks from outside to dine.
Yet squirrels, grackles and blue jays have never managed to crash the ongoing party.

Attractive Globe design holds and protects lots of small birds while they feed.
Strong, heavy duty construction.
Green cage and UV stabilized polycarbonate feeding tube.
Bracket included.
Single: One feeding perch. Seed capacity 0.86 lbs
Medium: Four feeding perches. Seed capacity 1.14 lbs
Large: Four feeding perches. Seed capacity:0.74 lbs.




Cart
Note:
All prices in US Dollars

Search

Featured Products