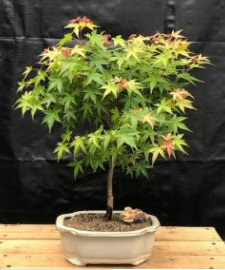 Click to enlarge image(s)
Japanese Green Maple Bonsai Tree (acer palmatum)
Hardy and easy to grow.

This delicate Maple will look great on a patio, deck or garden.

Provide sun in order to show best colors both in early spring and late into the season.

Deciduous

Keep outdoors

12 years old.

18" - 19" tall

Suitable humidity/drip tray is recommended.

Note: While Plants are unique and not one plant is the exact same as the other. The plant we send you will be a live, healthy well cared for plant, whose age, size, color and type will match the plant show in the image from the product page you ordered from. We and our nurseries pride ourselves in providing each of our customers with the best plant possible that will match as closely as possible the image shown. While we cannot guarantee the plant you receive will look exactly like the plant in the image, it will be very close and if you are unhappy with your plant you can send it back.