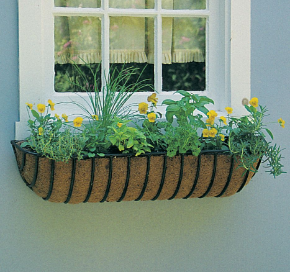 Click to enlarge image(s)
Use under windows, on walls or railings. Our European Classic Hayrack planters are a beautiful alternative to traditional window boxes.

Includes natural coco-fiber liner.
24" long Hayrack: 24" long x 7 1/2" wide x 7 1/2" deep, with 5/16" diameter bars.
30" long Hayrack: 30" long x 7 1/2" wide x 7 1/2" deep, with 5/16" diameter bars
36" long Hayrack: 36" long x 9" wide x 9" deep, with 5/16" diameter bars
44" long Hayrack: 44" long x 10" wide x 10" deep, with 3/8" diameter bars
55" long Hayrack: 55" long x 12" wide x 12" deep, 3/8" diameter bars
80" long Hayrack: 80"Sectional Hayrack, in two 40" halves-80" long x 14" wide x 14" deep

Mounting hardware not included.
Suggestions include Vinyl Siding Hooks (VSH05CS which hold up to 24 lbs.), J Hooks (KCJH for hayracks up to 36" long), and Hayrack Brackets (KCRB). You can also use plated or masonry lag bolts which are available at your local hardware store.

Mounting Bracket: Each bracket is 13" tall. Adjusts across top from 3-1/4" to 5-1/4" wide. Grips lumber up to 1-3/4" thick. For thinner lumber, shims can be inserted to achieve a tight fit. Solid steel construction with black finish. The natural coco-fiber replacement liner is 17-CLTC16.

Cart
Note:
All prices in US Dollars
Search


Featured Products