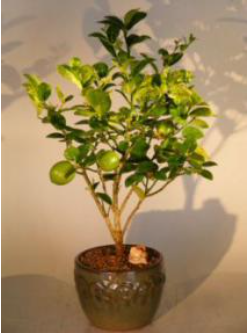 Click to enlarge image(s)
Key Lime Bonsai Tree (citrus aurantifolia)
Also known as Mexican Lime or Bartender's Lime, has a globose fruit 1-2" that is yellow when ripe but usually picked green.
• It is smaller, seedier, has a higher acidity, a stronger aroma, and a thinner rind than that of the more common Persian Lime.
• It is valued for its unique flavor compared to other limes, with the Key Lime usually having a more tart flavor.
• The Key Lime is a small tree with an open habit and heavy crop of fruit that has fragrant flowers and fruits readily on its own.
• Great for indoors.
• Popularly used for Key Lime pie.
• 8 years old
• 14" tall
• For extra protection, suitable humidity/drip tray is recommended.
Regretfully we are unable to ship this tree to AZ, CA, FL, HI, LA, PR, or TX at this time due to current US Department of Agriculture restrictions.