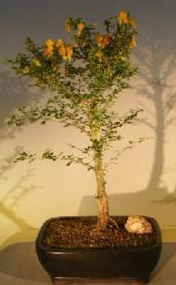 Click to enlarge image(s)
Flowering Jamaican Raintree Bonsai Tree (brya ebenus) is native to the West Indies and also called the West Indian Ebony.

• Its' small, waxy leaves grow densely in alternate formation on the main stems, giving the tree an overall simple appearance.
• Leaves are tiny and evergreen which love the sun and is drought resistant.
• This tree gets its' name, Jamaican Rain tree from the sweet smelling, bright yellow flowers that bloom after it rains.
• A very decorative tree presents these yellow/orange flowers along the branches throughout the year.
• Great for indoor bonsai tree.
• 12 years old
• 14-15" tall
• Suitable humidity/drip tray is recommended.


Cart
Note:
All prices in US Dollars

Search


Featured Products