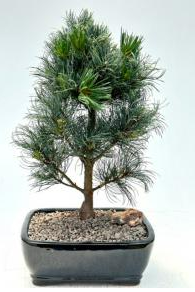 Click to enlarge image(s)
Japanese White Pine Bonsai Tree (pinus parviflora 'bergman')

• Beautiful blue color and has a nice curve to its needles.
• Medium sized cones.
• Very dense and quite slow growing.
• All this wrapped up in one makes for a great bonsai.
• Hardy evergreen.
• Outdoor evergreen bonsai tree. Keep outdoors.
• 14 years old
• 18-19" Tall
• Suitable humidity/drip tray is recommended.


Cart
Note:
All prices in US Dollars

Search


Featured Products