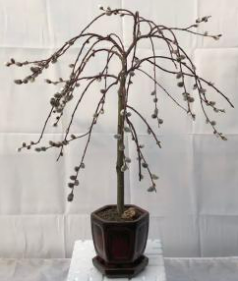 Click to enlarge image(s)
Our Flowering Weeping Pussy Willow also know as (salix caprea 'kilmarnock') is a great addition to your home.
This delightful mini Weeping Pussy Willow tree is an excellent choice to accent a deck, patio or pond.

• In early spring the branches are covered with large, fluffy, silvery catkins followed by studded golden anthers.
• Lovely green foliage follows.
• Grafted head onto rootstock.
• Branches arch straight down making a beautiful display in all seasons.
• 9 years old.
• 21" tall.
• Deciduous. Keep outdoors.
• Suitable humidity/drip tray is recommended.
• May be shipped with no foliage during autumn and winter.

This unique and beautiful real indoor bonsai tree is on sale here at the best possible cheap discount online sales price.


Cart
Note:
All prices in US Dollars
Search


Featured Products