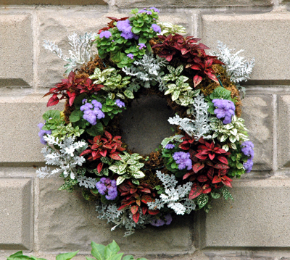 Click to enlarge image(s)
Clip-together design makes it easy and quick to create living wreaths to decorate doors, walls, fences and table tops.

Use succulents, ivies, small annuals and herbs to make strikingly unusual floral decorations.

The simple design of these Living Wreath Rings will allow you to plant wreaths for every season. Includes jute liner but additional options are listed below.

Liner Choices:
Liner material needs to be soft enough for you to make a hole and plant-but thick enough to hold the potting mix in place.
Oregon Green Moss-Small wreath uses one Large bag, Medium uses one Large and one Small bag, Large uses two Large bags.
Coco-Fiber Moss-Economical 1 lb bag of Coco-Fiber Moss is enough to line either Small or Medium wreaths. The 1 lb bag can be "stretched" to line a Large wreath.

Includes natural coco-fiber liner.
Add a liner.
The liners are made from a soft, strong material that holds the potting mix securely, yet can be cut easily with scissors or a small knife. This allows easy planting of small or larger plants. Material contains green Jute fibers. Liner consists of two pieces-the base and the lid.

Cart
Note:
All prices in US Dollars

Search