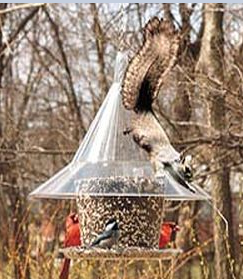 Click to enlarge image(s)
Squirrel-Proof, Rain-Proof Feeder

This is the most versatile, cleanest way to serve any kind of seed.
This feeder gives you an ideal option for your deck, balcony or yard.
Mixed seeds are popular with a large variety of birds: cardinals, wrens, finches, chickadees, nuthatches, woodpeckers and so on.
Squirrels just slide off the 17" diameter dome.
Big 1 gallon hopper that's easy to fill.
Slide the dome up hanging chain to refill seed.
100% strong re-cycled Plexiglass
Comes complete with hanging chains. Pole mounting socket in base of feeder.


17" overall height, seed tray is 11-1/2" diameter, chain is 21" long.

Cart
Note:
All prices in US Dollars
Search


Featured Products