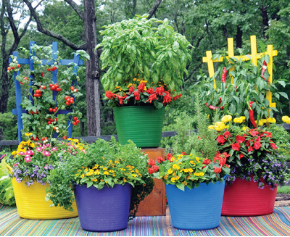 Click to enlarge image(s)
Professional-strength, heavy duty, versatile carriers with dozens of uses in garden and home.
Some colors on backorder
Tough-but light, these tubs are easy to carry. Made from 100% recycled polyethylene, they're as hardwearing as a car tire.

Use Trug-Tubs for weeding and pruning-they stand upright reliably

A Handle on each side allows easy carrying with one hand.
Use them for carrying tools and mixing potting soils.

They'll even carry liquids without splashing and you can pour from them easily.

Use them for carrying firewood and as party ice buckets.

They're so flexible, they won't dent or rust and are easy to keep clean.

Made in Spain for harvesting fruit in orchards.
Small: 25 liters, 6.6 gallons capacity -
currently out of stock
Medium: 40 liters, 10.5 gallons capacity
Large: 55 liters, 14.5 gallons capacity
-
currently out of stock

Cart
Note:
All prices in US Dollars
Search