Featured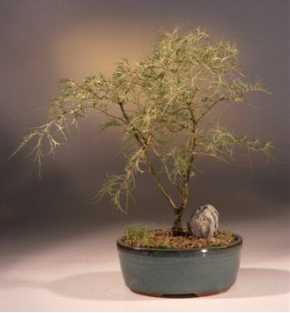 Click to enlarge image(s)
Laceleaf Weeping White Birch Bonsai Tree (betula pendula 'trosts dwarf')
This dwarf only grows to 3-4 feet tall, and is highly sought after for bonsai.
This delicate tree has fine textured thread-leafed light green foliage that looks like a weeping laceleaf maple.
The peeling bark trunk has pendulous catkins.
There is a distinctive white bark which is colored by a pigment called, appropriately enough, betulin.
Much loved for bonsai because of their elegant beauty.
Deciduous. Keep outdoors.
11 years old, 16" - 18" tall.

Cart
Note:
All prices in US Dollars

Search