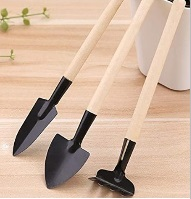 Click to enlarge image(s)
Houseplant Tool Set

• This convenient sized tool set that is perfect for potted plant care.
• The set contains a cultivator, transplanter, and trowel.
• Great for terrariums, bonsai and window boxes.
• This makes it easy to transplant your smaller plants without breaking off the delicate roots.
Cart
Note:
All prices in US Dollars

Search


Featured Products